Construction
3D Printing in Construction Industry
Building Decoration
3D printing is well developed in building decoration industry. Personalized decoration were extensively used in the famous buildings like Water Cube, Great Hall of Expo Shanghai. National Grand Theatre,Guangzhou Grand Theatre, The Oriental Art Center, Phoenix International Media Center,Hainan International Expo Centre, Sanya Phoenix Island etc.
Construction Model
In construction business, designers use 3D printing technologies to build up building models, It's fast, low cost and environment friendly in this way and exquisite production at the same time. It's the best way to visualize the building model and barrier free communication. Completely meets the designers requirements, saving a big amount of material and time.
3D Living examples for building decoration
The Strawberry Mansion in Beijing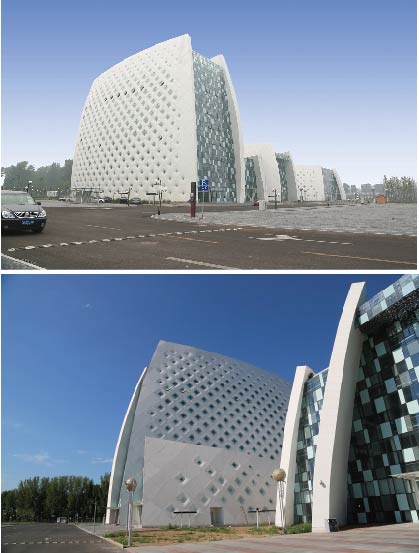 Galaxy International Shopping Centre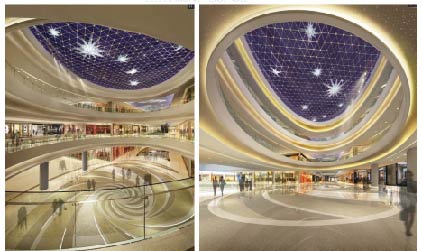 Hunan Zhuzhou Red Flowers Tree Hotel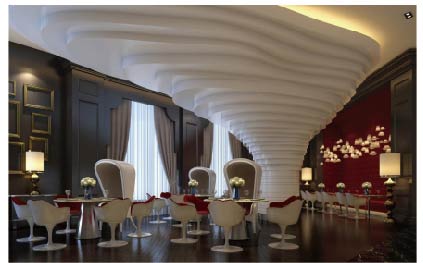 Samples for Irregular Furniture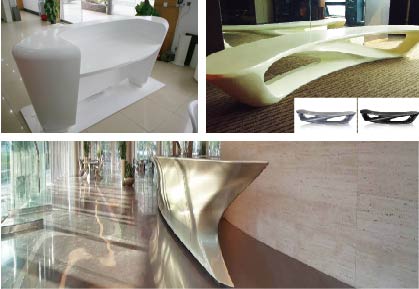 3D Building Samples
Introducing 3D printing used in buildings by chronological order, mainly include Contour Crafting, Landscape House, Moon Base, Printed House 2.0, Canal House in the Netherlands ,3D Printing House in Qingpu area Shanghai China, Medieval Castles
Case 1
Funded by NASA in 2012, professor Behrokh Khoshnevis in department of industrial and systems engineering of Southern California University demonstrated 3D printing technology application used in the field of construction industry, the use of "Outline Crafting" process system in less than 20 hours to build a building area of 2500 square feet building. Professor Behrokh Khoshnevis said, "the printed wall is hollow, it is lighter than conventional wall, but the strength of the coefficients is higher than traditional houses, and also saves 20% -25% funds, 25%-30% materials and 45% - 55% of the labour. He said the initial purpose of this study is to give poor people faster and better way to build a house. The technology was granted the best innovations by National Inventors Hall and the Modern Miracle Column in 2006.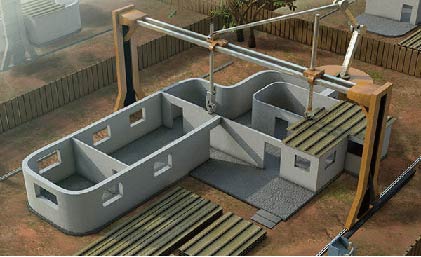 Case 2
Architect Janjaap Ruijssenaars, from the Holland Cosmos Construction company. 2013 in January, he said they hope to build a landscape architecture with 3D printing technology, called Landscape House. They will use sand and adhesives "print" into a plurality of modules, and then assembly, the final product will be a single flow design. By using innovative 3D printing technology, composed of two layers of Mobius ring house. The project is expected to be completed in 2014. His 3D printing project is part of European competition. The competition allows more than 15 countries architects to build the building in two years to participate the awards.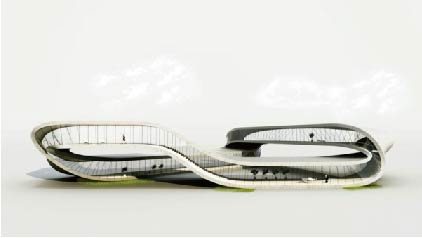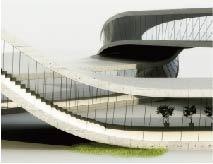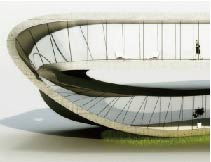 Case 3 ( Moon Space Station )
Background

Foster + Partners branch office and European Space Agency cooperate to 3D printing a building using materials collected from Moon.

Overview

• Using modern construction technology, helped with 3D printing, It is possible for human beings to build buildings on the moon. Through the invention of catenary shaped vault and honeycomb structure wall, make the inside of the building can resist damage of meteoroid and space radiation on the moon, Foster Partners, the firm also designed a supercharging air fittings within the building to protect astronauts. This hollow closed bubble structure, reminiscent of the birds bones: a very good combination of strength and weight of the building.

Speed

The speed of 3D printing is 2m per hour at present

Ink

The "ink" to print the structure is actually a kind of salt material

Case 4
Holland Amsterdam is building the world's first 3D printing houses. The house is named the Holland Canal House, designed by DUS architect firm, a total of 13 rooms. Used a large 3D printer called KamerMaker (meaning "the house builder"). When the KamerMaker printing melt plastic layer by layer and formed the plastic block after solidification. After this, the construction workers assemble the house like playing Lego toys.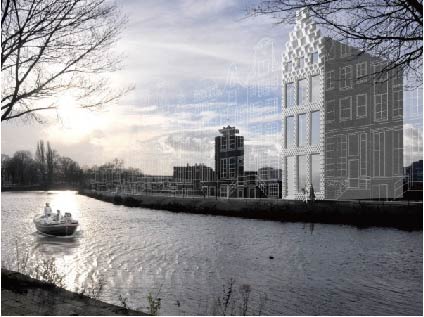 Case 5
In January 2014, the first 3D printing architecture unveiled in Qingpu Shanghai , causing a lot attention at home and abroad. There are 10 instant noodles appearance of texture style house, is a 6.6 meters high, 10 meters wide, 32 meters long ( unfold 150 meters) of the 3D printer to print out within 24 hours, the average cost is only twenty thousand or thirty thousand yuan.
Entering into a 3D printed room: the diversity of design can make the windows position reserved in the printing process, and can install the embedded parts according to the design. Not like the ordinary wall, pouring the concrete to form the wall. 3D printing use a special "ink", to print layer by layer on site in the field according to design drawings and computer programs.